Foldable flat pack container house is a retrofit container that can integrate all the components, which refer to the main components of the container (side walls, end walls, roofing, etc.), can be easily folded or disassembled, and can be easily combined when used again. Specifically, the foldable container house is composed of a base, a left side wall, a right side wall, a front door wall, a rear end wall, and a roof. The base and each wall are pivotally connected by hinges, and between the walls, each wall upper end and the roof are connected by hinges with movable pins. When the container is not being used, the walls and roof can be folded and stored on the base. When need to uses it, just need to open it, lift the roof, erect the walls, and connect the walls with hinges with movable pins.
steel structure with sandwich panel wall and doors,windows,etc.

2.3mm steel structure with 4 corner casts and

1,steel roof sheet;

2,50mm -70mm EPS/rockwool/PU sandwich panel

3mm Hot galvanized steel structure

50/75/100mm EPS/Rock woll/PU sandwich panel

Made of steel/aluminum frame,dimension W870*H2040mm,furnish with a handle lock with 3 keys,or sliding glass door W1500*2000mm.

Made of PVC/aluminum fame,dimension W800*H1100mm,glazed with double glass in a thickness of 5/8/5mm.

PVC Connection kits for ceiling,floor and walls.

3C/CE/CL/SAA Standard,with distribution box,lights,switch,sockets,etc.

Furniture,sanitary,kitchen,A/C,electrical appliance for accomodation,office,dormitory,toliet,kitchen,bathroom,shower,steel

roof,cadding panels,decorative material,etc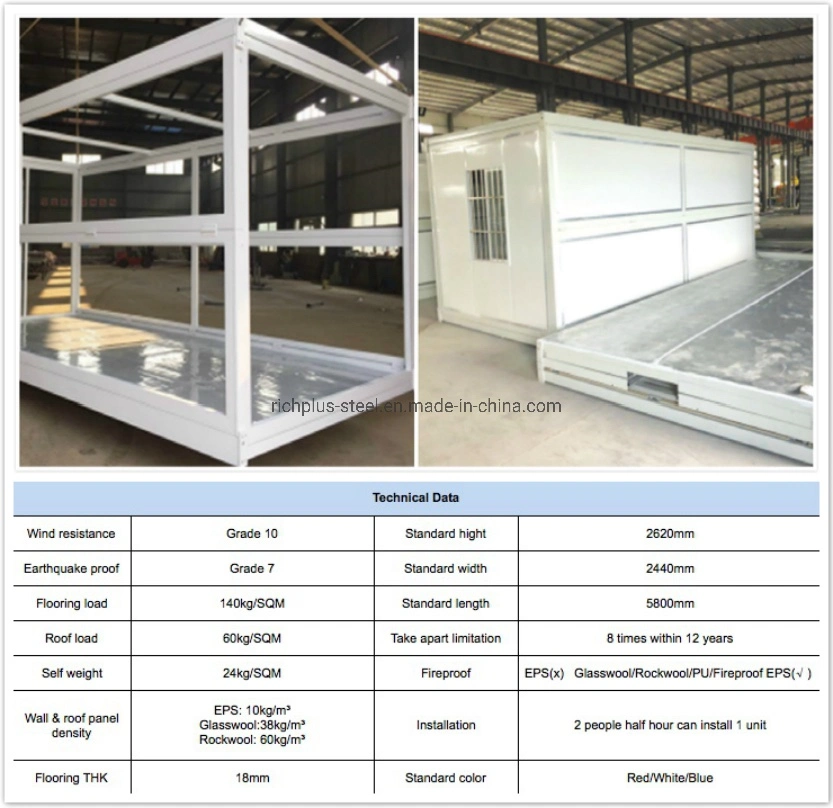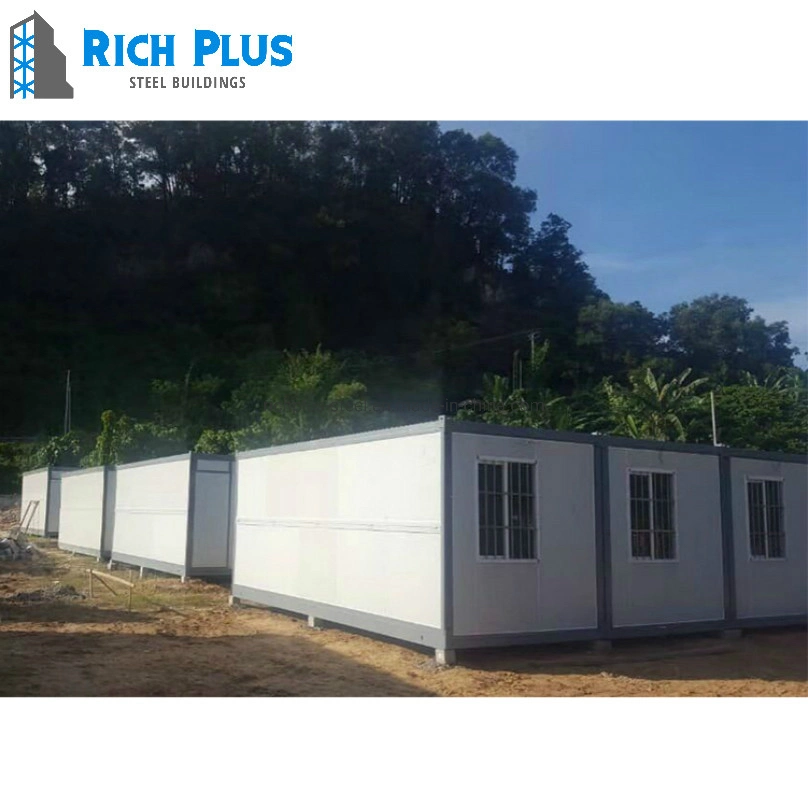 Foldable container house is a green product with standardized design and production.
It is widely used in housing, workers' dormitory, shops, etc. It is easy to assemble and disassemble, just lift the roof with a crane and tighten the screws. In 10 minutes, two people can cooperate to assemble a house. Its advantages and characteristics are easy to assemble and install. Easy to pack and save transportation costs.
Application: house/office/hotel/dormitory/cafe/sale booth/labor camp/restaurant etc.
Installation is quite easy, 10 minutes, two people can assemble a house.